Decking Defined
Refresh your garden ready for summer with a smart new outside area. Decking can be used to create a special space for socialising, whether by the pool or as a bridge between indoors and outdoors. It can also make productive use of under-used garden areas which are sloped or un-even.
Decking can be a great DIY project if you have a limited budget but professionals can always be recommended. We stock both softwood and composite decking. For a more traditional look, softwood is cost effective and exceptionally easy to install. We supply everything from decking boards to patrice newel posts which support the balustrading. We also have anti-slip in stock too. All our decking is pressure treated to UC4 level and so is suitable to be in permanent contact with the ground outside. All of our timber meets FSC® (Forest Stewardship Council) standards, meaning that it has been sourced from forests that have been independently certified as being responsibly managed. We currently offer softwood decking in classic green. Please click here for stock and sizes.
Composite Decking provides a maintenance free and long-lasting alternative which is is becoming an increasingly popular choice. We supply the UK's leading brand of sustainable composite decking, Composite Prime HD Deck® Dual. This decking is made using recycled plastic and FSC® wood flour which ensures that it is sustainable, ethical and eco-friendly. HD Deck® Dual composite decking can be cut with standard woodworking tools and is held in place with a secret clip system. Fascia boards and end caps are also available to complete the job.
Composite decking contains the equivalent of more than 3,000 recycled plastic bottle caps per square metre. It is safe and incredibly child friendly as it is slip and stain resistant. HD Deck® Dual is dual-sided, offering a reversible two-colour option which gives the opportunity to lay a deck with contrasting colours. Composite Prime will not warp, bend or splinter and features a natural wood grain. It is free from hazardous substances, requires no staining, treating or painting and has a 25-year warranty.
Please do not hesitate to contact us for a quote or if you need any further advice. We look forward to hearing how you get on and please do share any photos with us on Facebook or Instagram and in the meantime, good luck with your any landscaping projects this bank holiday weekend.
Click on the image above for dimensions

James' Easter Top Five
Be inspired by James' Easter Top Five and make the most of your outdoor space this bank holiday weekend, as well as ensuring that the chickens are fed!
1. Softwood Decking
One of the most popular DIY projects over the Easter weekend is installing decking in your outdoor space. Softwood decking is cost effective and exceptionally easy to install. Decking can bridge between the indoors and outdoors and can also make productive use of under-used garden areas. Please click here for stock and sizes.
2. Sadolin
A great project to rejuvenate existing decking, garden furniture and fencing. Sadolin provides the best wood protection and a lick of wood-stain is sure to brighten up your garden ready for the warmer months.
3. Picket Panels
If your fencing has had a tough winter, then perhaps some new picket panel fencing is the answer? Picket panels provide an attractive finish to define the borders and boundaries and are quick and easy to erect. We stock round and pointed top panels which are 1.8 x 0.9m and pales which are 0.9 and 1.2m.
4. Softwood Sleepers
An Easter weekend essential! Thanks to their versatile nature, softwood sleepers can do just about anything! They are ideal for raised flower beds, lawn borders, retaining walls and also creating some stunning garden features. Please click here for stock and sizes.
5. Chicken Feed
James' final top five is chicken feed as who else is going to provide the eggs for Easter Sunday! We stock Heygates Country Layers Pellets and Mixed Poultry Corn.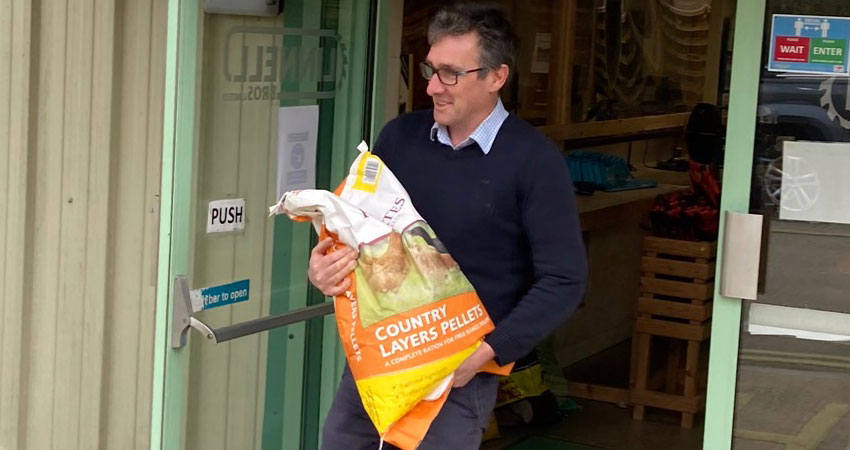 Please note that we are open on Good Friday 07:00 – 17:00 and Saturday 07:30-11:30. We are closed on Easter Sunday and Bank Holiday Monday. Please do not hesitate to contact us with any queries.
Click on the image above for dimensions

Future-proof your garden with DuraPost fencing systems
As we look to a more sustainable future, DuraPost and other timber alternatives are becoming ever more popular. DuraPost is a complete fencing system of steel fence posts and caps, corner posts, gravel boards and capping rails, and can be used with virtually any type of fencing. It is made in the UK from engineered galvanised steel and it is 100% recyclable at end-of-life. Unlike traditional fence posts, DuraPost will not rot, warp or crack and is maintenance free.
This innovative fencing system is lighter and more durable than concrete alternatives and is much easier and quicker to assemble. It has a unique 'H' shaped design which allows almost any type of panel or board to be slotted in. It is available in four colours; galvanised, anthracite grey, sepia brown and olive grey. Once installed DuraPost can withstand winds of up to 110mph and it comes with a 25 year guarantee.
We are an elite stockist and hold the full range of DuraPost products (subject to availability) for you to view and order with a delivery of three working days.  For orders over £500, delivery is free locally. Please click here for dimensions and contact us for a quote or call 01327 354422.
Click on the image above for dimensions

Your Trusted Timber Merchants
Whether you need fencing, gates, sleepers or decking, Linnell Bros is your one-stop-shop for high-quality, sustainable timber at competitive prices. Whatever your project, we'll be happy to help. Either visit our yard in Silverstone or pick up the phone and chat to one of our friendly team members.
5th Generation Family Business
Extensive stock holding
On-site treatment plant
On-site Machining Service
Friendly and expert service
We deliver throughout the UK, usually within three working days on stocked items. We operate our own fleet of delivery vehicles ranging from 3.5T vans to 26T 6-wheelers with HIAB cranes.
Over 90% of our timber is sourced from within the UK. The timber we sell is from regulated plantations which are managed and farmed in accordance with the Forest Stewardship Council (FSC) and Program for the Endorsement of Forest Certification (PEFC). This means that whenever you buy timber from Linnell's you can be sure it has come from a professionally managed plantation that operates within certified environmental standards.
All of our timber can be pressure treated using eco-friendly Tanalith preservatives which contain no copper chromic arsenic or other toxic substances. This treatment protects our wood from decay and insect infestation, so whatever the project, you know that you're protected.